Exam results - The Headlines  2018
GCSE results day at St Martins School is a success! Students and staff have worked hard this year and this work and dedication has been rewarded.
In particular, Molly Jones achieved three grade 9, five grade 8 and three grade 7. This is probably the best set of results in the school's history and we wish her every success as she moves to Moreton Hall as part of the two school's ongoing collaboration.
Ms Lovecy said, 'I am delighted with the results. With the new GCSE exams, students have had to put in maximum effort to get these results and I wish all our students every success as they move to the next chapter in their lives
Key results
Commentary
Both the results at key stage 2 and the provisional results at key stage 4 would place St Martins School in the Average school category.
We are far from an average school. GCSE headlines are only a tiny part of the picture and I urge you to visit our school, feel the fantastic atmosphere and experience the unique student centred education that we offer. Behaviour, safety and attitude to learning has now been consistently good in 2 Ofsted inspections and we are working to achieve outstanding at our next inspection. Our students are independent learners and we constantly involve students in discussions about school improvement and their own learning. My staff go above and beyond to help students achieve the very best that they can in academic achievement and in developing the strengths and social skills needed to thrive in the world today. Education at St Martins School is so much more than the grades they achieve on their GCSE certificate.
The results for 2018 were an improvement in almost every area from the results in 2017.
 Key stage 2
KS2 Progress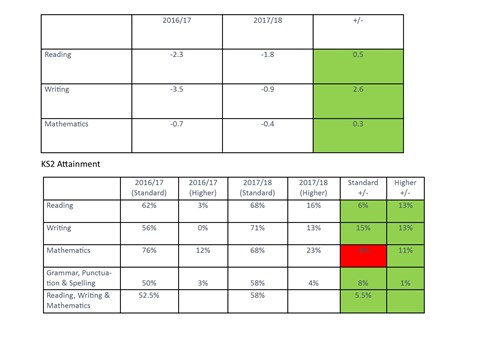 Average scaled score per pupil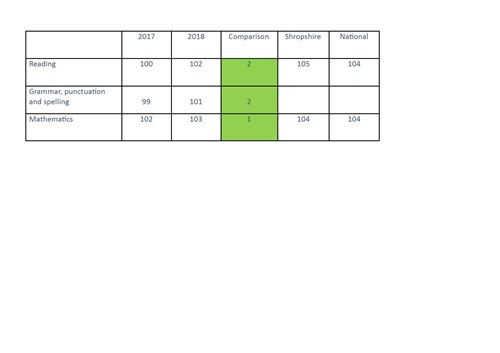 Key stage 4
At St Martins School our year groups are small and we have to be creative with our curriculum in order to offer the same opportunities as larger schools. Last year students sat 2 GCSE's / BTEC courses in year 10. These courses are not the new GCSE's 4-9 and therefore do not count in the official results set. These courses were really important for our students and we are very happy that although they don't count for the school, they do count for the students. These results make a significant difference to our progress score if they are counted the result below show progress measures with and without these Legacy GCSE's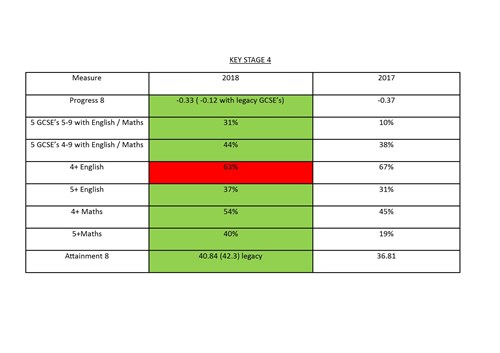 Ebacc
Standard - 4+ - 16%           Strong - 5+ - 16%
To view performance tables, click here.