This page will be updated as the year progresses. 
GCSE and Key stage 2 SATs will take place in the summer of 2023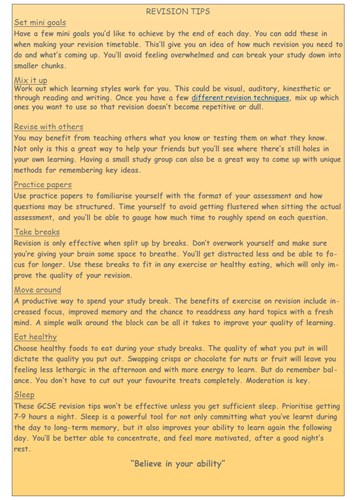 Just a reminder that the GCSE information forum will take place online (via teams) on Thursday 17 November at 6pm - please follow the link for the meeting http://bit.ly/3UTqGSY
 We will discussing 
 - GCSE mock exams 
 - Revision ideas and expectations 
-Dates for summer exams 
 - Answer to questions from the online forms submitted- (please follow link to submit questions - https://forms.office.com/r/fVs11TeBtD)
 - AOB 
 If you cannot make it a recording will be available on the teams page .
 _____________________________________________________________________________________________________
 Subjects use 'Teams' and each subject page contains lots of revision material - we recommend that students have the teams app downloaded on their phone (log in is the same as their school computer log in) Parents could also  download  and use their child's log in
Please find below some resources and useful web links to help guide your revision.
English Revision
https://www.bbc.com/education/examspecs/zpxh82p
https://www.bbc.com/education/examspecs/zw9mycw
Maths Revision
Please use the following links:
https://vle.mathswatch.co.uk/vle/
Students should have all required login details and parents/carers can always call school if they need the information.
Modern Foreign Languages
You have been given a revision booklet to practice for reading, translation  and writing test. Also you have 'active learn' homework set that covers all modules.
Key words and phrases
History Revision
https://www.bbc.co.uk/bitesize/examspecs/z8rvfrd
Geography Revision

https://www.hoddereducation.co.uk/myrevisionnotesdownloads - test questions and answers to revision guide.
Music
Use this link to get to the music department website!
http://mrjamesmusic.weebly.com/